At the end of May, friends and companions of Michael Scheikl (AUT) met in Mürztal (AUT) for a small celebration in honor of the seven-time World Cup winner. The 33-year-old received the crystal globe and the medal for third place in the overall standings of the FIL Luge World Cup on Natural Track 2021/2022.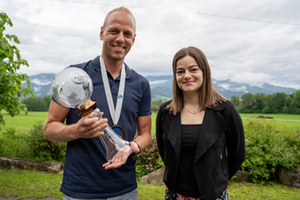 Michael Scheikl and Christina Götschl at the handover ceremony
Due to Russia's attack on Ukraine, the World Cup finals in Moscow (RUS) had to be canceled without replacement at the end of February, so the season ended in a hurry and without an award ceremony. Christina Götschl, currently head coach of the FIL group, organized a celebration for the overall winner 2020/2021 in the "Roanwirt" restaurant. "Michael knew nothing about it, together with his girlfriend Nicole we secretly organized this handover of the crystal ball," says Götschl, who grew up together with Scheikl at the Styrian Luge Association. "I had no idea, the surprise was a complete success," Scheikl said.
In the past season, Michael Scheikl was on the podium in four of five races, in Mariazell (AUT) he celebrated his seventh victory in the World Cup. At the European Championships in Laas/Lasa (ITA), the defending champion won the silver medal behind Alex Gruber (ITA).