Tatjana Hüfner completes title collection with European Championship gold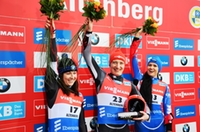 Altenberg (RWH) Tatjana Hüfner has completed her title collection. The Olympic Champion and four-time World Champion clinched her first gold medal in the Continental Championships at the 47th FIL European Championships in Altenberg (GER), which were staged during the 8th round of this season's Viessmann Luge World Cup. The 33-year-old relegated Latvian Eliza Cauce to second place ahead of Russia's Tatiana Ivanova in third.
World Champion Natalie Geisenberger finished fourth to secure overall victory in the Viessmann Luge World Cup with a lead of 109 points, despite a crash on Wednesday which meant she was able to complete only one training run and left her with pain in her neck during the race. The 2014 Olympic Champion can now no longer be overhauled ahead of the season finale next weekend. Geisenberger has amassed 810 points, with Tatiana Ivanova now lying second on 701 points. American Erin Hamlin (692) is now third, having finished sixth in Altenberg.
Eliza Cauce, who until last year competed under her maiden name Tiruma, has mostly enjoyed success in the team relay, including Olympic bronze in 2014. She also won European Championship silver in 2014 and European Championship bronze in 2015 with the Latvian quartet. Tatiana Ivanova won European Championship gold in 2010 and 2012.
The finale of the Viessmann Luge World Cup is set to take place next weekend in Winterberg (GER). The artificial ice track in Hochsauerland will host the 48th FIL World Championships in 2019. Next winter, Innsbruck (AUT) will host the 47th FIL World Championships.
Quotes
Tatjana Hüfner (GER / Olympic Champion 2010, four-time World Champion and European Champion 2016)
"My title collection is now complete.The others benefited from their good start number on the first run, and i was always within striking distance of the lead."
Eliza Cauce (LAT / European Championship silver 2016)
"To be honest, I have no idea how I managed to finish second. I can't really explain it. But I'm delighted."
Natalie Geisenberger (GER / Olympic Champion and three-time World Champion, four-time overall winner of the Viessmann Luge World Cup)
"It never crossed my mind that I would secure overall victory here. In view of my medical issues this week, I am more than happy."