Tatjana Hüfner draws level with all-time record holder Sylke Otto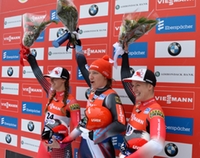 Lake Placid (RWH) Ironically, Tatjana Hüfner's least favourite track has given her two reasons to celebrate. By clinching her first ever win on the artificial ice track on Mount Van Hoevenberg, the 33-year-old Olympic Champion of 2010 has drawn level with her compatriot Sylke Otto on 37 singles victories.
Under the watchful gaze of two-time Olympic Biathlon Champion Andrea Henkel, who now lives in Lake Placid with her husband Tim Burke, also a biathlete, the four-time World Champion relegated the two Canadians Kimberley McRae and Alex Gough into second and third respectively. After last year's triple podium sweep, the Americans Summer Britcher, Emily Sweeney and Erin Hamlin could manage only fourth, sixth and seventh this time round.
Hüfner's record-equalling victory means she also takes the lead in the overall Viessmann World Cup classification. The Thüringian luger, who has a complete set of Olympic medals to her name, having won gold (2010), silver (2014) and bronze (2006), currently has 240 points. Her teammates Natalie Geisenberger (225), who finished fifth in Lake Placid, and Dajana Eitberger (209) are in second and third respectively.
The Viessmann World Cup moves on to the Canadian town of Whistler next week. The Olympic track returns to the International Luge Federation (FIL) calendar for the first time since 2013.
Quotes
Tatjana Hüfner (GER, 2010 Olympic Champion, four-time World Champion)
"Never in my wildest dreams did I think I'd achieve this record victory in Lake Placid, of all places. It's unreal. I have to thank my trainers Jan Eichhorn and Robert Eschrich. It's all going so well at the moment, and we have a great working relationship. It's all really positive as we get on so well together."
Kimberley McRae (CAN / fifth at the Olympic Games and eleventh in the 2016 World Championships)
"I've come second in the team relay before, but this is my best result in the singles. It's unreal. Those were the two best runs of my life.
Alex Gough (CAN / fourth at the 2014 Olympics, World Championship bronze medallist 2011 and 2013)
"I had two solid runs. There's a good rivalry within the team, and we're pushing each other hard. That really motivates me. Now we want to put in a good performance on our home track."