Tatjana Hüfner is a five-time World Champion in luge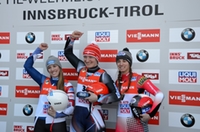 Innsbruck (RWH) Things have come full circle for Tatjana Hüfner – ten years after her first world title in Innsbruck, the 33-year-old has now clinched her fifth gold medal at the World Championships of the International Luge Federation (FIL) on the same Olympic ice track at the foot of the Patscherkofel.
Hüfner, who has a full complement of Olympic medals to her name (gold in 2010, silver in 2014, and bronze in 2006) relegated the USA's Erin Hamlin and Kimberley McRae of Canada to second and third respectively at the 47th FIL World Championships. Defending champion Natalie Geisenberger improved on her error-strewn first run to set a new track record of 39.822 seconds on her second attempt, finishing sixth overall.
By winning her fifth gold medal in the Olympic women's discipline, following her previous triumphs in 2007, 2008, 2011 and 2012, Hüfner has firmly cemented her position as the most successful World Championship luger of all time (5 gold, 1 silver, and 1 bronze). With 37 singles victories in the Viessmann Luge World Cup, Tatjana Hüfner, who is a qualified infant teacher, is also tied at the top of the overall rankings with Sylke Otto (GER).
The race was watched closely by Karl Stoss, President of the Austrian Olympic Committee (ÖOC), and a recent recruit to the International Olympic Committee (IOC). The former alpine skier Stephan Eberharter, Olympic Champion in 2002 in the giant slalom, and three-time World Champion, had already paid a visit to the track to watch the sprint race the previous day. Austrian defence minister Hans Peter Doskozil, whose remit also includes sports funding in the Alpine republic, has announced that he will pay a visit to the track on the final day.
Quotes
Tatjana Hüfner (GER, 2010 Olympic Champion and five-time World Champion)
"I don't know what to say – I'd never have believed I would win another title here after my first one 10 years ago. It's unreal."
Erin Hamlin (USA / 2009 World Champion, Sprint World Champion in 2017)
"This has been an almost perfect weekend, gold followed by silver. I carried over my momentum from the sprint."
Kimberley McRae (CAN / fifth at the 2014 Olympics)
"I would have never expected that. I managed a very clean second run."