Team GB achieves best ever luge result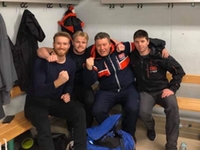 Winterberg (RWH) Britain's lugers really seized the day in Winterberg. In the absence of several top lugers, coach Michael Berger's charges achieved Team GB's best ever result.
Rupert Staudinger finished 17th, with Luke Farrar and Raymond Matthew Thompson in 23rd and 24th, respectively, to make history for the British luge squad. It was the first time that three British men had qualified for the Viessmann World Cup.
Australia's Alex Ferlazzo also achieved a personal best with 13th place in Winterberg.