Team USA Women going for record "triple" in Doubles Luge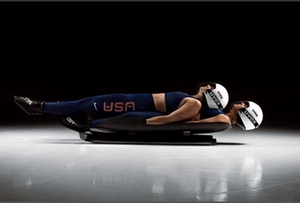 Lake Placid/USA (FIL/ 10 Nov. 2022) Team USA Women's Doubles is making history as the first country to send a team of three sleds to the EBERSPÄCHER Luge World Cup 2022/2023.
The team - which now includes two high profile Olympians - is throwing the spotlight on women's doubles luge, set to make its debut at the Milano Cortina 2026 Olympic Winter Games.
Power of three
Summer Britcher (28), three-time Olympian with five World Cup career victories - the most in U.S. luge singles history - and Emily Sweeney (29), two-time Olympian and 2019 World Championship bronze medalist, will make their competitive debut at the World Cup Opener in Innsbruck, Austria on December 3.
While racing as singles athletes is their primary responsibility this season, both are taking every advantage of the opportunity, combining their experience for success.
They will join Team USA's doubles specialists Chevonne Forgan (21)/Sophie Kirkby (21) and Maya Chan(19)/Reannyn Weiler (20), who switched from singles to doubles five years ago.
Team USA - doubles focus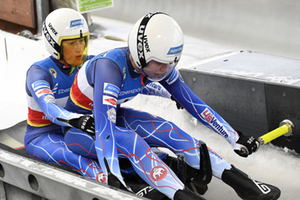 Team USA is already a force to be reckoned in women's doubles - in January, Forgan and Kirkby secured bronze at the first Women's Doubles World Championship in Winterberg, Germany, with Chan and Weiler finishing fourth, just a tenth of a second behind their teammates.
With Britcher and Sweeney now in the mix, with a formidable reputation, long experience and thirst for winning, the sky is the limit for Team USA.
"It's been a lot of fun teaming up with Summer in a completely new way," said Sweeney. "We've been teammates for years, but being on the same sled solidifies our teammate relationship even more. Training together brings a whole new level of motivation and encouragement, and while it feels completely new at times, I've already seen our experience from singles transfer over to doubles, which is really encouraging."
Closing gender gap - World Cup & Olympic goals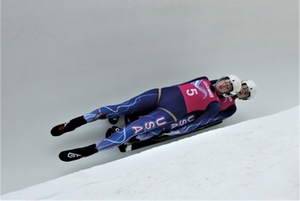 With one eye on the upcoming World Cup season and the other on the next Winter Games - the most gender balanced in history - Forgan is ecstatic with the growth of women's doubles.
"Seeing women's doubles at Milano-Cortina 2026 is a dream come true for female lugers around the world," explained Forgan. "It's also a major relief to us too! We've given up singles to dedicate ourselves to doubles."
Kirkby is especially thrilled to be part of this movement to close the gender gap:
"It's exciting to see the International Olympic Committee equalising a category of our sport that has been male dominated up to now. This will attract younger generations of female lugers and open up possibilities for us to continue in the sport as coaches and in other leadership positions."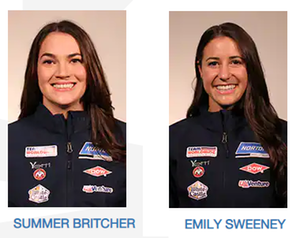 Doubles journey
The journey for Team USA women's doubles has certainly been exhilarating.
It's now been five years since Chan and Weiler first experienced doubles together - and it's been an adventure ever since.
"I clearly remember the day on a curve, half way down the track, during our singles training run," recalled Chan. "We were randomly paired up by our coach. We laughed a lot and had no idea what to expect. We definitely got hooked from there!"
By the time Chan and Weiler had reached their first competitive year of doubles, they had made a strong impression, explains Weiler: "FIL had just decided on the standardised sled. The coaches by then assumed we knew a lot. At one track, we were simply handed our sled in pieces in different bags. That memory sticks with me because we were just 14 - it was all such a learning curve at a young age!"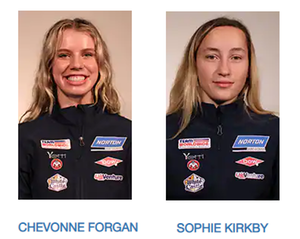 New hopes, new horizons - women's doubles
Now, with the new chapter for women's doubles open, several more chapters await for this discipline. First of all, women's doubles will feature in Team Relay at the 2026 Games.
"This is another opportunity to earn an Olympic medal, increase gender equity and visibility for our sport. And everybody loves Team Relay!" highlighted Kirkby.
The FIL World Cup 2022/2023 season will also see the women launch from the same height as the men at some legs.
"We're very excited," said Weiler. "This will be the first time women will go from the same height as the men - and we'll all be marking this exciting moment in history in women's doubles."
And now, more athletes are considering women's doubles for the first time:
"At this point in my singles career, I may not see improvements in my sliding week to week let alone run to run, but in doubles, we are beginners and it's been cool to learn, improve, and work with a teammate, which is something I have missed during my singles luge career," explained Britcher.
"Being so established in singles, we are able to look at both of our careers, start to now. From the highs and lows, what worked and what didn't, and to be strategic about how we train and approach every obstacle."
The World Cup action kicks off 3-4 December in Innsbruck-Igls, Austria, with the nine-race season.
World Championships will take place in Oberhof, Germany on January 27-29, 2023.