The FIL Luge World Cup on natural track is coming to Romania next weekend. On the "Bukovina"-track in Vatra Dornei, the exciting battle for the World Cup lead in the men's singles continues.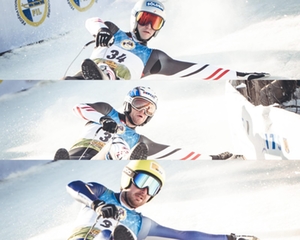 (from top) Kammerlander, Scheikl and Gruber are fighting for the World Cup lead
The starting position after two of the seven races of the season could hardly be more exciting: World champion Thomas Kammerlander (AUT) and Alex Gruber (ITA) are currently leading the overall standings with 185 points each. Both have one win and one second place in the books so far. Last year's overall winner, Michael Scheikl (AUT), follows in third place with 140 points. Both, Kammerlander and Gruber, travel to the Carpathians with good memories: "Kammi" won there in 2014 and 2019, Gruber in 2020 and at the World Championships in 2017. However, with four wins in Vatra Dornei, Patrick Pigneter (ITA) is at the top of the honor roll.
In the women's singles, the winners-history is also balanced: Greta Pinggera (ITA) won the last World Cup in 2020, as well as the World Championships in 2017. In 2014, 2016 and 2019 her teammate Evelin Lanthaler (ITA) triumphed at the World Cup in Vatra Dornei, where the Russian Ekaterina Lavrenteva was also able to win three times. In the overall World Cup, Lanthaler is clearly ahead of Lisa Walch (GER/170) and Pinggera (140) with 200 points.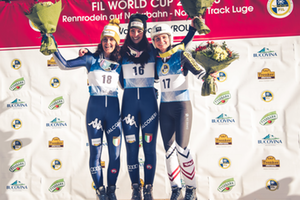 The podium 2020: (from left) Lanthaler, Pinggera and Unterberger
The starting position in doubles is very special: Patrick Pigneter/Florian Clara (ITA) have won every World Cup race there since the premiere in 2013 (2013/2014/2015/2016/2019/2020), only at the 2017 World Championships they were defeated by Rupert Brüggler/Tobias Angerer (AUT). Maybe this impressive series will come to an end this year, because the form curve of the cousins Fabian Achenrainer/Simon Achenrainer (AUT) is pointing steeply upwards after the two podium finishes in Umhausen (AUT).
Program 3rd FIL Luge World Cup on Natural Track, Vatra Dornei (21-23 January 2022)
Friday, 01/21/2022
9.30 a.m.: Nations training singles, followed by nations training doubles

Saturday, 01/22/2022
10 a.m.: 1st race men's singles
12 o'clock: Finale men's singles, followed by flower ceremony and award ceremony men's singles

Sunday, 01/23/2022
10 a.m.: 1st race doubles
10.30 a.m.: 1st race women's singles
11.30 a.m.: Finale doubles, followed by flower ceremony and award ceremony doubles
12.15 p.m.: Finale women's singles, followed by flower ceremony and award ceremony women's singles