Big final at the 23rd FIL Luge World Championships on natural track in Umhausen (AUT). Exactly ten years after his brother, Thomas Kammerlander (AUT) became the men's single World Champion for the first time on his home track on Sunday. The dethroned defending champion Alex Gruber (ITA) follows in second place, ahead of his team mate Patrick Pigneter (ITA).
The video-highlights of the day:
Umhausen has been working towards this day for two years. The 955 meter long "Grantau-track" was modernized for the 23rd FIL Luge World Championships on natural track. Local hero Thomas Kammerlander has been focusing on this titel fights for two years and immediately took the lead in the first run, ahead of Alex Gruber and Patrick Pigneter. In the decisive second run, both Pigneter and Gruber were able to maintain their positions. Thomas Kammerlander was the last athlete to go into the final run, steadily increased his lead with a flawless run and became the new World Champion with a total time of 2.24.82 minutes. Alex Gruber (+0.64 seconds) won the silver medal, bronze went to Patrick Pigneter (+0.90 seconds). At the last World Championships in Umhausen in 2011, his brother Gerald Kammerlander crowned himself World Champion on the "Grantau-track". Today he is the sports director for the natural track department at the Austrian Luge Association. For Thomas Kammerlander, who turned 31 on Friday, it is the second gold medal at World Championships. In 2017 in Vatra Dornei (ROU) he won the title in the team competition with Austria.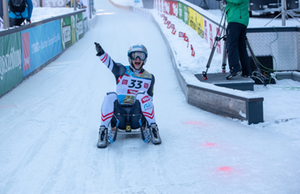 Thomas Kammerlander (AUT) celebrating his gold medal
In the final team competition, which was held for the first time in a World Championship without doubles, Italy was able to successfully defend its title. World Champion Evelin Lanthaler and Alex Gruber in 2.29,71 minutes clearly beat the hosts Tina Unterberger and Thomas Kammerlander (+2,00 secons) in. Bronze went to the Russian Luge Federation with Ekaterina Lavrenteva/Aleksandr Egorov (+3,10 seconds).
(from left) Unterberger/Kammerlander (AUT), Gruber/Lanthaler (ITA) and Lavrenteva/Egorov (RLF)
With the World Championships the season for luge athletes on natural track came to an end. The venue fort he 24th FIL Luge World Championships on natural track is not yet defined.
What the medalists say:
Thomas Kammerlander (AUT/Gold): "This gold is a huge relief. I worked towards this one goal for two years. As a result of the postponement, I had to endure the enormous pressure, which was also increasing from outside, even longer. But now I've made it and I'm incredibly happy and grateful. Am I ending my career now? I certainly can't answer that today. Now I am enjoying the World Championship title and maybe in the summer I will decide whether I will continue for another year. "

Alex Gruber (ITA/Silver): "I am very satisfied with the silver medal. We tried to put Thomas (Kammerlander) under pressure in the first run. But he couldn't be beaten, congratulations to him for this outstanding race on his home track. "

Patrick Pigneter (ITA/Bronze): "Of course you always want to win. But gold in the doubles and now bronze in the single - honestly, I'm super satisfied. I'm happy for Thomas (Kammerlander) that he made it, because I know how much pressure there is at a home World Championships. Compliments to the staff here in Umhausen for this perfect event - that was a very important step with regard to a possible inclusion in the Olympic program. "
The medal table of the 23rd FIL Luge World Championships on natural track:
1. Italy: 3 Gold/2 Silver/1 Bronze
2. Austria: 1 Gold/1 Silver/1 Bronze
3. Russian Luge Federation: 0 Gold/1 Silver/1 Bronze