The FIL Luge Junior World Cup on Natural Track 2018/19 ended on Sunday. In Oberperfuss (AUT) the favorites climbed the top of the podium.

Fabian Achenrainer (AUT) fixed his second victory of the season in the Junior World Cup with a fast catching up in the second run. In Oberperfuss Achenrainer was in fourth place after the first run, in the second run the 18-year-old drove a superior best time, was 1.66 seconds faster than the half-time leader Florian Haselrieder (ITA) and took the lead. Daniel Gruber (ITA) followed in second place, Haselrieder finished in third position. In the overall standing Achenrainer is on first place with 370 points, ahead of Gruber (285) and Haselrieder (280).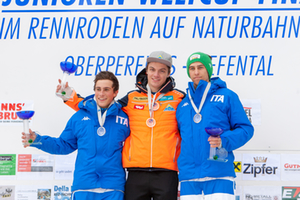 In the women's category, Lisa Walch (GER) won ahead of the two Italians Daniela Mittermair and Nadine Staffler. With her second win of the season, Walch conquered first place in the overall standing with 355 points, ahead of Mittermair (340) and Staffler (325).

In the doubles, Fabian Achenrainer / Miguel Brugger (AUT) celebrated their fourth victory of the season in the fourth race, 1.47 seconds ahead of Maximilian Pichler / Matthias Pichler (AUT) in second place and Myroslav Lenko / Andrii Hirniak (URK) in 3rd position. Achenrainer / Brugger won with a maximum of 400 points also the overall standing in the doubles.

The next big event will be the FIL Youth Games in Obdach-Winterleiten on February 16-17, before the Youth European Championship starts in Umhausen on February 22nd.