This is THE news of the summer: Thomas Kammerlander (AUT) was thinking of an end to his career after his World Championship title at the home World Championships in Umhausen (AUT) in February. Now the 31-year-old has officially confirmed that he will go on another season with luge on natural track.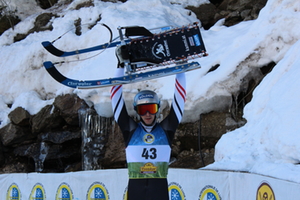 Thomas Kammerlander (AUT) is competing one more season
Thomas Kammerlander has been the measure of all things in luge on natural track in the men's singles for years. He won the overall World Cup four times in a row from 2017-2020, in 2016 in Passeier (ITA) and 2018 in Winterleiten (AUT) he was crowned European Champion and World Champion in Umhausen in 2021. "In my career I have won everything there is to be won in this sport. Therefore, I was concerned with the end of my career," explains "Kammi". "At the moment, luge on natural tracks is experiencing an upswing, especially here in Tyrol. Therefore I would like to strengthen this development with my successes and the media coverage."
"Not sitting on the luge until 40"
At the same time, the series winner in the World Cup (21 victories) makes it clear that he will make way for the next generation around Fabian Achenrainer (AUT) in the foreseeable future. "I will turn 32 years old next season. I'm not someone who sits on the luge until the age of 40. That's not my goal." In addition, said Kammerlander, he missed two races last season because of his Covid infection, and that would not have been a worthy farewell. And he makes it clear: "If I carry on, then giving 100 percent". All fans of luge on natural track can look forward to more thrilling competitions and an exciting battle for overall victory with Michael Scheikl (AUT), Alex Gruber (ITA) and Patrick Pigneter (ITA).