After the first successful "Tourbus" years, the support program of the International Luge Federation FIL was rebuilt and upgraded. The first stop of the new Tourbus was in Lendak (Slovakia).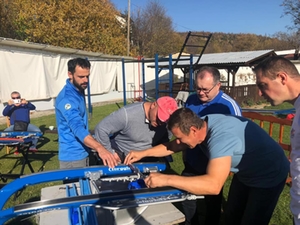 During the last weekend of October, the Tourbus in Lendak was fully loaded with an intense coaching-program. In addition to the succesful kids-program the two-day seminar also included training for coaches, material science, rules and luge-preparation. Highlight of the Tourbus in Lendak was the start training. In addition, the necessary homologation of the natural track was fulfilled.

"We have expanded the offer with the new Tourbus. The small associations will now receive a complete package from us, so that they can then become active on-site in setting up and promoting young talents, "explains FIL Director for Sports and Technology, Andreas Castiglioni, who was in Lendak with Helmut Ruez and Matteo Clara. The conclusion of Castiglioni after the first stop is entirely positive: "The new offer is very well received, now we want to take the tour bus on a long journey."