Preparations for the upcoming FIL Luge World Cup on natural track are in full swing. The International Luge Federation FIL has now approved the World Cup calendar for the 2022/2023 season.
The racing calendar provides for a total of six FIL World Cups and four Junior World Cups. There are also two title fights: the FIL Luge World Championships on Natural Track and the Junior European Championships.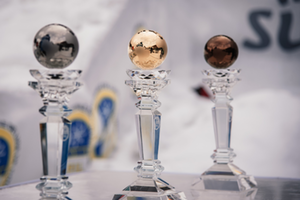 The crystal globes for the overall champions

The FIL World Cup will kick off at Winterleiten (AUT), the traditional track in Styria will be the scene of a double event from December 15th to 18th: After the classic World Cup on Friday and Saturday, the only eliminator (formerly the pursuer) will follow on Sunday.
In the new year, three World Cups are on the agenda in Italy's northernmost province. The venue of the first station from 6.-8. January has yet to be confirmed, after which Jaufental/Val di Giovo will experience a premiere. Three years after the first Junior World Cup on the "Tonnerboden"-track, from January 13th to 15th 2023 for the first time the stars of the scene will perform on the Junior European Championship and Junior World Championship track. The "South Tyrol Tour" comes to an end with the classic in Deutschnofen by the end of the month.
As usual, February is the month of title fights: First comes the World Cup in Vatra Dornei (ROU), immediately afterwards from 10.-12. February is all about the World Championship medals on the "Bukovina"-track. The defending champions are Evelin Lanthaler (ITA), Thomas Kammerlander (AUT), Patrick Pigneter/Florian Clara (ITA) and Italy in the team competition. The tourist resort in the Romanian Carpathians is the venue of the FIL Luge World Championships on Natural Track for the second time after 2017.
With the finales at the night race in Umhausen from February 17th to 19th the World Cup season ends in Austria.
Junior World Cup
The Junior World Cup will stop at four locations next winter. It starts at the end of the year on December 30th and 31st in Winterleiten, before continuing on January 4th and 5th on the "Bergkristall"-track in the Passeier Valley/Val Passiria (ITA). After a two-week break, the third station follows on the Seiser Alm/Alpe di Siusi (ITA/January 21st to22nd). The finales will take place on January 28th and 29th in Unterammergau (GER). With the Junior European Championships at the beginning of February (3rd-5th) in Mariazell (AUT), the World Cup season for young athletes comes to an end.
As in 2020, the FIL Youth Games will be held on February 11th and 12th in Lendak, Slovakia.
The calendar