Since 100 days the World Cup season 2018/2019 is history, but now the preparations for the upcoming season already started. The Executive Committee of the International Luge Federation FIL has decided the race calendar for the winter of 2019/2020. The highlight is the European Championship in Moscow (RUS).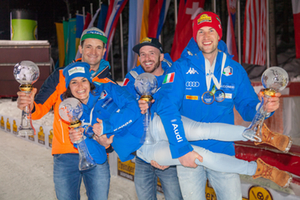 The overall World Cup winners 2018/2019: Thomas Kammerlander, Evelin Lanthaler, Florian Clara and Patrick Pigneter
The 2019/2020 World Cup calendar comes up with several news. The European Championship season starts shortly before Christmas with the classic in Obdach-Winterleiten (AUT), the first race in the new year is the World Cup in Passeiertal (ITA), where the only pursue-race of the winter is scheduled. Then it time for back-to-back racing: Vatra Dornei (ROU) followed by the World Cup in Deutschnofen (ITA), on the 2nd weekend in February the FIL Luge World Cup on Natural Track stops in Zelesniki in Slovenia, before reaching the big final in Umhausen ( AUT).
The highlight of the 2019/2020 season will be the European Championship from Februar 21st to 23rd in Moscow.
The race calendar of the Junior World Cup includes 4 stages, followed by the Junior World Championship from January 31st to February 2nd in St. Sebastian (AUT).
The World Cup Calendar 2019/2020
20.- 22.12.2019 Winterleiten (AUT)
9. - 12.01.2020 Passeier Valley (ITA)
17. - 19.01.2020 Vatra Dornei (ROU)
24. - 26.01.2020 Deutschnofen (ITA)
7. - 9.02.2020 Zelesniki (SLO)
13. - 15.02.2020 Umhausen (AUT)
European Championship
21. - 23.02.2020 Moscow (RUS)
Junior World Cup
30. - 31.12.2019 Winterleiten (AUT)
4. - 5.01.2020 Jaufental (ITA)
18. - 19.01.2020 Laas (ITA)
25. - 26.01.2020 Oberperfuss (AUT)
World Youth Championship
31.01. - 2.02.2020 St. Sebastian (AUT)