The luge-athletes are fighting on the ice tracks throughout the winter, often decides only 1/100 second between victory or defeat. The sporting duels continue in the social networks.
Last season, in the Men's single-seaters Thomas Kammerlander (AUT) and Alex Gruber (ITA) were the big dominators. The two outstanding athletes were in a close head-to-head for the victory in the overall World Cup standings, both celebrated each three seasons victories. This duel between Kammerlander and Gruber continues on Facebook: Overall winner Thomas Kammerlander has 1698 followers on his official profile, World Champion Alex Gruber 1699.
For the ladies, the crown goes to Greta Pinggera (ITA). The Vice-World champion scores 5243 fans on Facebook, World Champion Evelin Lanthaler (ITA) has 4654 followers, Tina Unterberger (AUT) follows on 3rd position with 3072 fans. Same on Instagram: Among all Natural Track athletes Greta Pinggera is in the lead with 3260 followers, luge-ace Patrick Pigneter (ITA) has 2529 followers and Evelin Lanthaler 1608.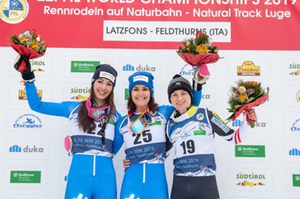 Greta Pinggera, Evelin Lanthaler and Tina Unterberger are in the lead of the social media ranking
In total (Facebook + Instagram) are a woman's world: Greta Pinggera is the social media queen with 8503 fans, ahead of Evelin Lanthaler (6262) and Tina Unterberger (3951). The social media king is Patrick Pigneter (3098), ahead of Alex Gruber (3034) and Thomas Kammerlander (2236).
(data survey on augst 22nd, 1pm)