The FIL World Cup 2023/2024 in natural track luge will be a very special winter, because with the end of the careers of World Cup dominator Thomas Kammerlander (AUT), World Champion Alex Gruber (ITA), former World Champion Greta Pinggera (ITA) and the "time out" of doubles World Champion Patrick Lambacher (ITA) the cards are being reshuffled. The World Cup calendar for the 2023/2024 season promises an exciting season with some news.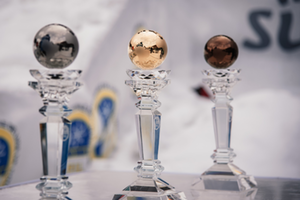 The overall winners will grab the globes
Berchtesgaden (FIL/29.10.2023) The World Cup winter begins with a premiere: in mid-December (16th/17th) the starting signal will be fired on in Kühtai (AUT) at the 2021 built natural track at 2,000 meters above sea level. It is the first World Cup race for the venue, after the FIL Youth Games 2022 and the National Championships.
In the new year the World Cup continues on January 6th and 7th in Laas/Lasa (ITA), followed by the classic in Umhausen (AUT) from January 18th to 21st. After the World Cup, the only eliminator of the season will take place on the Grantau-track.
February begins with the highlight of the season in Jaufental/Val Giovo (ITA). On 1st and 2nd there will be a fight for World Cup points, while on 3rd and 4th of February the fight will be for gold, silver and bronze. The 30th FIL European Championships in natural track luge are the first title fights in the general class on the Tonnerboden-track, after the Junior European Championships in 2021 and the Junior World Championships in 2022.
The season ends with a double World Cup in Romania: After the fifth World Cup on February 15th and 16th, the World Cup finale is scheduled on the Bukovina track on February 17th and 18th.
Junior World Cup
The Junior World Cup will stop in four locations next winter. It starts at the end of the year on December 30th and 31st at Winterleiten (AUT). There are two races on the program in South Tyrol in January, after Ulten/Ultimo (ITA) on January 4th and 5th, Latsch/Laces (ITA) returns to the international racing calendar on the 13th and 14th.
The Junior World Cup ends with the finale on January 27th and 28th in Umhausen, followed in February by the highlight of the season for the young athletes: from February 9th to 11th, the Junior World Champions will be crowned at Winterleiten (AUT).
The FIL Youth Games 2024 will take place on February 17th/18th in Prein an der Rax (AUT).
The calendar