Toni Eggert able to compete at season's opener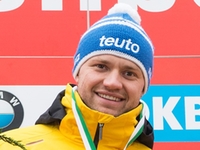 Innsbruck-Igls (RWH) The track is clear for Toni Eggert. The reigning World Champion, together with Sascha Benecken in doubles, passed a medical check and was declared able to compete at the season's opener this weekend (November 24-25) in Innsbruck-Igls (AUT). This was published by the German Federation (BSD). Eggert-Benecken are the defending champions of the Viessmann Luge World Cup 2017-2018.
In October Eggert had suffered a fracture of his right leg during a training run in Oberhof (GER). He underwent surgery and later a special training camp in Donaustauf (GER) for recovery. Eggert, who won Gold in doubles at the 2017 World Championships in Innsbruck and bronze at the 2018 Olympia Winter Games in PyeongChang (KOR), got "green lights" from Germany's medical head, Dr Lutz Kistenmacher in Berchtesgaden (GER).