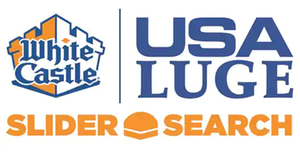 USA Luge - White Castle in search of future Olympic athletes
Lake Placid (FIL/19.09.2023) The White Castle USA Luge Slider Search is the official nationwide recruiting tour of the USA Luge Federation for young athletes aged 9-13.
Established in 1985, the goal of the program is to recruit, train and qualify young athletes for the USA Luge Junior Development Team. Female and male athletes who progress through the team's developmental levels hope to one day become members of the USA Luge National and Olympic teams.
Over the years, the White Castle USA Luge Slider Search has traveled over 250,000 miles and introduced the sport of luge to more than 25,000 eager young athletes. At each series stop, guided by U.S. Olympic and National Team coaches and athletes, participants are taught the basics of riding a luge sled, including positioning, steering and stopping.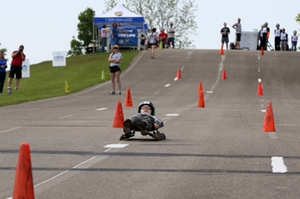 Once these skills are developed, athletes take several runs down a paved luge course on wheel-equipped luge sleds. Finally, athletes test their physical skills through a battery of fitness tests. Those who show promise in the summer program are invited to Lake Placid, N.Y., Park City, Utah, or Muskegon, Mich. to try luge on ice at a USA Luge sanctioned training site. The top young athletes from this group are selected for the next year's development team.
Currently, much of the U.S. junior national team is recruited through the Slider Search program. It's no wonder that USA Luge coaches are convinced that tomorrow's national and Olympic teams will emerge from this program.
Erin Hamlin, 2014 Olympic bronze medalist and 2009 World champion, was discovered through a Slider Search in 1999, while Brian Martin, 1998 Olympic bronze medalist and 2002 Olympic silver medalist, was discovered through a Slider Search in 1987. At least 70 percent of all Olympic teams since 2002 have come from the program.
Each participant only needs to sign up for a 2- or 3-hour class. Registration is available by calling 1-800-USA-LUGE or online at https://www.usaluge.org/try-luge/slider-search
All clinics are free and each participant will receive a cool White Castle USA Luge Slider Search T-shirt.