Vatra Dornei, Romania (FIL/11/01/2022) In about three months (February 10th-12th, 2023) the 24th FIL Luge World Championships on natural track will be held in Vatra Dornei. Six years after the last World Championships on the "Bukovina"-track, the facility is being brought up to date.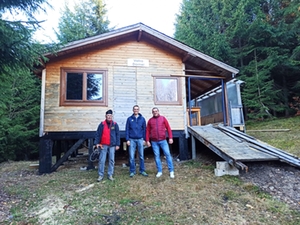 (from left) Marian Dragomir (track technician), Andreas Castiglioni (FIL Sports Director) and Marius Fediuc (administrator of wintersports club Vatra Dornei)
The mild autumn weather invites you to go hiking in the Carpathians, but the representatives of the organizing committee and the Romanian bobsleigh and luge ferderation have little time for the beauty of the rolling hills around the tourist resort of Vatra Dornei: they are working flat out on the major sporting event. After ten years of wind and weather, the start house had to be completely overhauled. During the on-site visit at the end of October, FIL Natural Track Sports Director Andreas Castiglioni was able to get an idea of the work. "Everyone tries even harder at a world championship, and the organizers are correspondingly motivated. In addition to the structural measures at the start and finish, the cables for timing were also completely renewed," Castiglioni draws a satisfied balance.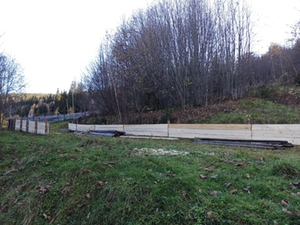 Replacing parts of the timber wall alongside the track
At a meeting with the city administration on the second day, under the direction of FIL Vice President Sorin Buta, the further procedure up to the title fights was discussed. Mayor Ilie Bonches and his deputy Marius Ripan have pledged their full support. "We have set the course for a successful World Championship. Now it's time to put the agreed steps into practice," emphasized Buta after the meeting.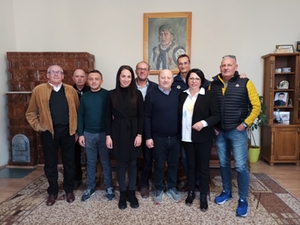 (from left) Harald Steyrer, Marian Dragomir, Marius Ripan, Delia Ivas, Sorin Buta, Ilie Bonches, Andreas Castiglioni, Sorina Ticu and Laszlo Hodos
In 2023, Vatra Dornei will be the venue for the natural track luge world championships for the second time after 2017. Immediately before the title fights there is the penultimate World Cup stage on the program from February 8th and 9th.