Wendl/Arlt clinch the European title to remain unbeaten in Königssee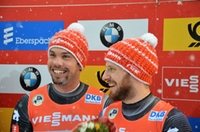 Königssee (RWH) Tobias Wendl/Tobias Arlt have continued their unbeaten run on the artificial ice track in Königssee to clinch the European Championship title for the second time, following on from their victory in 2015. The Olympic Champions from Germany remained undefeated on the oldest artificial ice track in the world for the eighth consecutive season. This time, they relegated their compatriots and defending European Champions Toni Eggert/Sascha Benecken to second place at the 48th European Championships of the International Luge Federation (FIL). Third place in the Viessmann World Cup, and European Championship bronze, went to Robin Geueke/David Gamm (GER).
The Austrian duo of Thomas Steu/Lorenz Koller, who were deputising for their unwell compatriots Peter Penz/Georg Fischler, came fourth. This was the career best World Cup result for the 2014 Junior Champions.
After seven of twelve rounds, Eggert/Benecken hold onto their lead in the overall standings of the Viessmann World Cup with 655 points, ahead of Wendl/Arlt (567) and Geueke/Gamm (445).
Quotes
Tobias Arlt (GER / 2014 Olympic Champion / three-time World Champion and two-time European Champion)
"We weren't worried about our unbeaten run, but we were shivering with cold. You can either get lucky or lose out in these conditions, but the track workers have done a good job. The conditions were fair for everyone."
Toni Eggert (GER / World Championship silver medallist 2012, 2013 and 2016, European Champion 2013 and 2016)
"I'd prefer not to comment on this race. I don't understand why the track wasn't being permanently swept. We could definitely have beaten Wendl/Arlt on their home track today."
Robin Geueke (GER / World Championship fourth 2016)
"I can't find the words. 2017 has started as 2016 finished. The snowfall made things really tough, but it was the same conditions for everyone."