The summer 2023 is not a good one for the natural luge tracks in the Alps. The heavy storms at the end of August not only severely damaged the "Grantau"- national training centre for natural track luge in Umhausen (AUT), but also the "Pfösl-Riep"-track in Deutschnofen/Nova Ponente (ITA).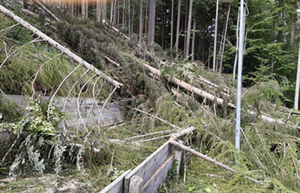 Snapped trees damaged the luge track
Deutschnofen/Nova Ponente (FIL/03.09.2023) From August 26th to 28th a severe storm front swept across the Alps from north to south. While the river Ötztaler Ache had ripped away bridges and parking lots in the Grantau in Umhausen, the strong wind hit Deutschnofen/Nova Ponente. The storm snapped dozens of trees on the 785-meter-long World Cup track in 2013 and 2023, and some of the huge trees fell directly onto the luge track. As the local sports club ASV Deutschnofen reported in a first reaction, the boards were badly damaged in several places.
Only after the fallen trees have been removed the exact extent of the damage can be assessed. The cleanup and repair work will take several weeks.