World Championship bronze medallist Tatiana Ivanova secures second win of the season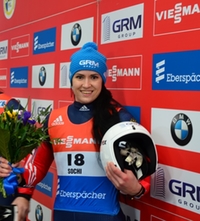 Sochi (RWH) Tatiana Ivanova was denied victory at the 2014 Olympics and the 46th FIL European Championships last season, but has finally managed to win a race in Sochi. Ivanova, who clinched bronze at the 2016 World Championships in Königssee, took her second win of the season at the seventh round of the Viessmann Luge World Cup of the 2015/2016 winter season on the 2014 Olympic track in Sochi, Russia. The Russian, who won Olympic silver in the team relay, had already won a race in Sigulda earlier this season.
The two-time European Champion (2010 and 2012) relegated her teammate Victoria Demchenko to second place in the tenth race of the season. This was a career-best result for the daughter of Albert Demchenko, a three-time silver medallist at the Winter Olympics. Olympic and World Champion Natalie Geisenberger (GER) finished third, with America's Erin Hamlin following her home in fourth. Sprint World Champion Martina Kocher from Switzerland finished seventh.
Germany's Tatjana Hüfner, 2009 Olympic Champion in Vancouver, had to relinquish any hope of a podium finish when she fell at the exit of curve ten on the first run. Her teammate and European Champion Dajana Eitberger, who was second at the halfway mark, dropped back to 19th after an error to finish just behind Hüfner.
Natalie Geisenberger retains her overall lead in the Viessmann World Cup standings on 750 points. Summer Britcher from the USA now lies second again on 645 points ahead of compatriot Erin Hamlin on 642 points.
The next round of the Viessmann Luge World Cup takes place in Altenberg (GER) next weekend. The 8th Viessmann Luge World Cup of the season will also double as the 47th International Luge Federation (FIL) European Championships.
Quotes
Tatiana Ivanova (RUS / World Championship bronze medallist 2016, World Championship silver medallist 2012 and 2015, European Champion in 2010 and 2012)
"It's always special when an athlete wins on their home track. And I've finally done it. I'm over the moon!"
Natalie Geisenberger (GER / Olympic Champion in 2014 and World Champion in 2013, 2015 and 2016)
"It's been a really tough week because the track has been so difficult."
"This is my best result to date. In some ways, my dad has been my role model."