World Championship's track ready: LOTTO Thüringen EISARENA officially handed over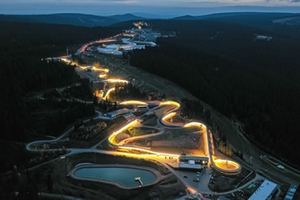 Oberhof (FIL/07 Nov. 2022) The awarding of the 51st FIL World Championships 2023 to Oberhof marked the beginning of a comprehensive modernisation of the LOTTO Thuringia EISARENA, the significance of which extends far beyond the 2023 World Championships. Above all, the investments in ideal training and competition conditions for the young talents make the construction measures a sustainable project for the future.
With modern energy management and use of over 60 per cent by youth and junior elite athletes, the LOTTO Thüringen EISARENA in Oberhof is one of the most sustainable ice sports facilities in the world. By using wood as the main building material, a conscious decision was made to use renewable building materials in the course of the sustainable modernisation.
On Monday, 07 November 2022, the artificial ice track, which was inaugurated in 1971 and has been undergoing general renovation since April 2020, was handed over to its users after 32 months of modernisation. "Today, a new chapter begins for the sledding sport, and it is called the future - because we have also secured a piece of the future for sport in Thuringia and the whole of Germany here," said Thuringia's Prime Minister Bodo Ramelow in the run-up to the opening. "I am grateful to all those involved for realising this project in a time full of challenges. We have shown that Thuringia and the Thuringian construction industry can realise such major projects. That makes me very proud."
With the upcoming FIL Luge World Championships from 27 to 29 January 2023 as the occasion, the imposing sports facility of the "Zweckverband Thüringer Wintersportzentrum Oberhof" was renovated and sustainably upgraded for more than 40 million euros - thanks to extensive funding from the Free State of Thuringia as well as the federal government of Germany.
With the official opening and handover of the World Championship sports facility, the focus is now back on sport, says the press release of the Thuringian Winter Sports Centre. "We will experience first-class competitions at this unique sports venue. Thuringia will present itself as a good host and is already showing how sporting tradition and sustainability can be combined. The Oberhof myth lives and will be perpetuated," Thuringia's Prime Minister Bodo Ramelow concluded.
photo: ZV-TWZ