World Championships in Sochi and nine Viessmann World Cup events scheduled for winter 2019/2020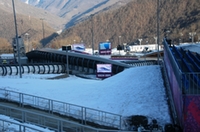 Berchtesgaden (RWH): Nine Viessmann World Cup events and the highlight of the season, the 49th World Championships in Sochi (RUS), have been added to the International Luge Federation's (FIL) calendar for the coming winter. The races in the BMW Sprint World Cup will take place in Lake Placid (USA), Whistler (CAN) and in Sigulda (LAT). Innsbruck-Igls (AUT), Altenberg (GER), Lillehammer (NOR), Oberhof, Winterberg und Königssee (all GER) are the locations of the Viessmann Team Relay World cup presented by BMW.
Sochi, the host of the 2014 Winter Olympics, will provide the backdrop for the 49th FIL World Championships between 14 and 16 February 2020. In keeping with tradition, the luge season opener will be held in Innsbruck-Igls (AUT / 23 and 24 November 2019). The tour will then move overseas to races in Lake Placid, USA (30 November / 1 December 2019) and Whistler in Canada (13 and 14 December 2019).
Following the Christmas break, the new year will start with Viessmann World Cup races in Altenberg, Germany (11 and 12 January 2020). This event will be followed by the 51st FIL European Championships in Lillehammer, Norway (18 and 19 January 2020). Ahead of the World Championships in Sochi, athletes will compete in Viessmann World Cup races in Sigulda (LAT) (25 and 26 January 2020) and Oberhof (GER) (1 and 2 February 2020). The World Championships will be followed by events in Winterberg (GER) (22 and 23 February) and a season finale on the artificial track in Königssee (GER) on 29 February and 1 March 2020.
Finally, the future Olympic track in Yanqing will be commissioned in mid-March in preparation for the 2022 Winter Olympics in Beijing.
The FIL schedule for winter 2019/2020
Viessmann World Cup Innsbruck AUT 23/24 November 2019
Viessmann Team Relay World Cup presented by BMW
Viessmann World Cup Lake Placid USA 30 November/1 December 2019
BMW Sprint World Cup
Viessmann World Cup Whistler CAN 13/14 December 2019
BMW Sprint World Cup
Viessmann World Cup Altenberg GER 11/12 January 2020
Viessmann Team Relay World Cup presented by BMW
Viessmann World Cup Lillehammer NOR 18/19 January 2020
Viessmann Team Relay World Cup presented by BMW
* Also 51st FIL European Championships
Viessmann World Cup Sigulda LAT 25/26 January 2020
BMW Sprint World Cup
Viessmann World Cup Oberhof GER 1/2 February 2020
Viessmann Team Relay World Cup presented by BMW
49th FIL World Championships Sochi RUS 14 to 16 February 2020
Viessmann World Cup Winterberg GER 22 /23 February 2020
Viessmann Team Relay World Cup presented by BMW
Viessmann World Cup Königssee GER 29 February/1 March 2020
Viessmann Team Relay World Cup presented by BMW