Two days before the start of the 23rd FIL Luge World Championships on natural track, the big sports event has to be postponed due to weather conditions. The new date for the title fights on the spectacular "Grantau-track" in Tyrol (AUT) is now Friday, February 12th to Sunday, February 14th, 2021.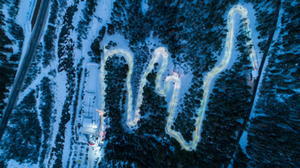 Drone footage of the "Grantau-track" by night
In Umhausen everything was arranged for a superlative sports festival for the coming weekend. But the heavy rainfalls of the past few days and the much too warm temperatures for this time of year have softened the track, which was perfectly prepared up to this point, that fair competitions are out of the question in the next few days.
The local organizing committee around OC boss Hansjörg Posch and Bruno Kammerlander, chairman of the organizing SV Umhausen, immediately looked for a good solution together with the International Luge Federation FIL - and found it. This now provides that the World Cup in Laas (ITA) will be rescheduled from Monday, February 8th to Thursday, February 11th. Immediately afterwards, the 23rd FIL World Championship will be held in Umhausen from Friday, February 12th to Sunday, February 14th.
"We were well prepared, but now we have to bow to the weather. It's a shame, but that's the way it is when you organize an outdoor sports event. We reacted immediately and with the postponement we were able to find a solution that we believe was good and fair for the athletes. We would like to take this opportunity to thank FIL Sports-Director Andreas Castiglioni and our colleagues in Laas, who were really very flexible and accommodated us by bringing their World Cup forward. In public we often talk about the luge family on natural track - this example shows that this is not just an empty phrase, but that we really stick together like one big family in difficult times," explain Hansjörg Posch and Bruno Kammerlander.
The new program for the 23rd World Championships, which will now take place on three instead of four competition days, has already been worked out by the organizers in cooperation with those responsible for the FIL. The title fights in luge on natural track start on Friday, February 12th with the national training. On Saturday, February 13th, the new World Champion in the women's single will be chosen from 10.30 a.m., while the finals in the doubles will begin at 11.30 a.m. Sunday, February 14th, on the other hand, is all about the decision in the men's single (final from 11.30 a.m.) and the team competition (1.30 p.m.).