The 2019/2020 season for the FIL Luge World Cup on Natural Track is about to begin. The racing calendar is filled with numerous innovations. The highlight will be the European Championships in Moscow in February (RUS).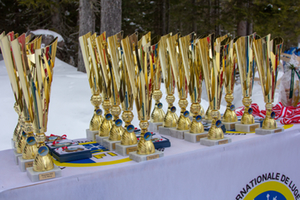 The new season will start shortly before Christmas with the classic competition in Obdach-Winterleiten (AUT). After five years in Kühtai (AUT) now Steiermark will be the new competition site fort he opening race. The first race of the new year will be the World Cup in Passeiertal (ITA), where the only pursuit race of the winter will be held. The last race of 2018 was won by local heroes Alex Gruber, Evelin Lanthaler and Patrick Pigneter / Florian Clara. Then there is no holding back: Vatra Dornei (ROU) is followed by the World Cup in Deutschnofen, and on the second weekend of February, the FIL Luge World Cup on Natural Track will be held in Železniki, Slovenia. World Cup points were last garnered on this cahllengin track in January 2017. At that time, Patrick Pigneter dominated in men's singles, and Greta Pinggera (ITA) won the women's singles. In doubles, Pigneter / Clara were victorious at the 2003 World Championships site wehre the Russians Pavel Porschnev / Ivan Lazarev snapped the silver 17 years ago, and they will also seek victory this coming season. The World Cup finale will be held as usual in Umhausen (AUT) which will also serve as the dry run for the 23rd FIL Luge World Championships on Natural Track in 2021.
Lanthaler and Kammerlander defend overall victory
Among the men, the Austrian Thomas Kammerlander carried the crystal ball into the summer break three years in a row. Last season, Kammerlander only won the fight for the crystal ball with Alex Gruber (ITA) at the finale in Umhausen. Among the women, Evelin Lanthaler was crowned champion the last two seasons. Durin the last World Cup winter, Lanthaler won all seven World Cup races and, with no lost points, won their third crystal ball overall following 2016 and 2018. In doubles, the overall World Cup victors for the last 12 years always went by the name of Pigneter / Clara or Porschev / Lazarev; however the Russians were only able to take home the crystal ball in 2012 and 2017.
The World Cup-Calendar 2019/2020

Winterleiten (AUT) 20.- 22.12.2019
Passeiertal (ITA) 9. - 12.01.2020
Vatra Dornei (ROU) 17. - 19.01.2020
Deutschnofen (ITA) 24. - 26.01.2020
Železniki (SLO) 7. - 9.02.2020
Umhausen (AUT) 13. - 15.02.2020
European Championships, Moscow (RUS) 21. - 23.02.2020