The racing calendar for the FIL Luge World Cup on natural track is set. The Executive Board meeting – held as a video conference - has given the green light for the coming season, which is strictly following the coronavirus hygiene concept.
In order to come up with the new circumstances due to the coronavirus pandemic, the International Luge Federation FIL has developed its own hygiene concept. Accordingly, the races are held in so-called bubbles. There are four stations in total in the World Cup. Kühtai (AUT) will start from December 10th to 13th. In addition to the World Cup opener, the only pursue-race of the season is on the program in Kühtai on Sunday. The entire World Cup bubble then moves to Winterleiten, where the next stage will be held from December 16th to 18th.
The World Cup will move to Italy in mid-January 2021, where a double World Cup will be held in Passeier (ITA) from January 14th to 17th. The fifth World Cup and the final will be held in Laas from February 10th to 13th.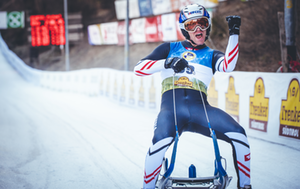 Michael Scheikl (AUT) wants to celebrate again next winter
The highlight of the season is the FIL Luge World Championship on natural track from February 4th to 7th in Umhausen (AUT). The defending champions are Evelin Lanthaler (ITA), Alex Gruber (ITA) and Patrick Pigneter/Florian Clara (ITA).
The Junior World Cup begins with a double World Cup in Winterleiten (AUT) at the beginning of January, followed by the race in Umhausen (AUT). At the end of January the finals are scheduled in Jaufental (ITA), where the European Junior Championship will also be held on February 1st.
The racing schedule 2020/2021
1st World Cup + Pursuit Kühtai (AUT) 10.-13.12.2020
2nd World Cup Winterleiten (AUT) 16.-18.12.2020
3rd and 4th World Cup Passeier (ITA) 14.-17.01.2021
5th World Cup + World Cup finale Laas (ITA) 10.-13.02.2021
23rd FIL World Championships Luge on natural track, Umhausen (AUT) 04.-07.02.2021
1st + 2nd Junior World Cup Winterleiten (AUT) 04.-06.01.2021
3rd Junior World Cup Umhausen (AUT) 09.-10.01.2021
4th Junior World Cup Jaufental (ITA) 30.-31.01.2021
Junior European Championships Jaufental (ITA) 01.02.2021

Due to the current situation, changes at short notice are still possible. All races will be held without spectators.