Preview 7th EBERSPÄCHER Luge World Cup in Oberhof: World elite of luge athletes* for the second time in Thuringia
Oberhof (FIL) The world's elite of the luge athletes* will stop in Thuringia for the second time this winter. Last time a month ago, at the 3rd EBERSPÄCHER Luge World Cup from December 11 to 13, 2020, athletes* from five different nations raced on the podium. However, the victories went to the local heroes Dajana Eitberger, Toni Eggert/Sascha Benecken and Felix Loch.
After the 6th seasons' World Cup and the European Luge Championships in Sigulda, Latvia, the World Cup bubble, with the European Champions Tatyana Ivanova (RUS), Felix Loch (GER) and the brothers Andris and Juris Sics (LAT) returns to Thuringia. From January 15 to 17, 2021, 44 women, just as many men in singles and 28 doubles from a total of 21 nations will compete in the 7th EBERSPÄCHER Luge World Cup of the season at Rennsteig.
The fight for the big crystal globe in the 2020/21 EBERSPÄCHER World Cup comes into the decisive phase. After Oberhof, only the two World Cups (including one sprint race) in Innsbruck (Austria) and the World Cup final in St. Moritz (Switzerland) are left on the season calendar of the International Luge Federation, FIL.
The women's World Cup decision promises to be the most exciting. A German trio is leading the overall standings before next weekend's event in Oberhof. Only 29 points separate seven-times overall winner Natalie Geisenberger, who has been wearing the yellow bib since the second World Cup, from last year's winner Julia Taubitz. (651 World Cup points). Dajana Eitberger follows in third place in the current World Cup ranking with 479 points. In the men's singles World Cup, serial winner Felix Loch has so far won seven of the eight races. With currently 755 points, the three-time Olympic champion is already 250 points ahead of his teammate and rival Johannes Ludwig. Italy's Dominik Fischnaller is in third place with 461 points. In the doubles' event, Austria's Thomas Steu and Lorenz Koller have been wearing the yellow jersey since the World Cup opener at home in Innsbruck-Igls. With 641 World Cup points, the two Tyroleans already have a considerable lead over the German chasing duos Toni Eggert / Sascha Benecken (585 points) and Tobias Wendl / Tobias Arlt (548 points).
The luge track in Oberhof underwent a concrete renovation over the summer with partial height reductions of the curves and concrete profile adjustments. The facility is currently still a construction site, so only the three disciplines women's and men's singles and doubles will be run. A Team relay or a Sprint World Cup are not planned at the 7th stop for the EBERSPÄCHER World Cup in Oberhof. In summer 2021, the extensive construction measures in Oberhof will continue, already in view of the 51st FIL Luge World Championships in 2023.
From Wednesday, January 13, 2021, the official training runs for the World Cup races on the weekend will start. At the same time the IBU Biathlon World Cup takes place in Oberhof this week.
Current statements from the press conference on January 12th, 2021 (TSBV/BSD):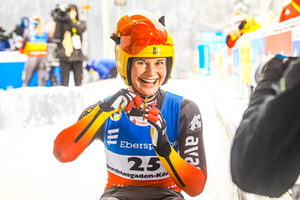 Julia Taubitz: "In order to be stable in the top of the world, I definitely have to work on my starting performance. My athletic values are actually quite good, but I can't apply the technique yet. That's still a bit lacking, and we'll have to work on that next year so that we can next year, so that I can get more routine into it and get the top starts at the competitions. I don't think I'll be the start rocket par excellence, but I definitely have to close the gap to the world's best in any case. As far as my relationship with the track in Oberhof is concerned, it has not really improved despite the rebuild. Let's see how the week goes. So far it has so far it has not been so pleasant for me. I know what I have to watch out for, and I really want to like to sled here and conquer the track and finish two nice runs at the race. I think with enough concentration, I'll get that done."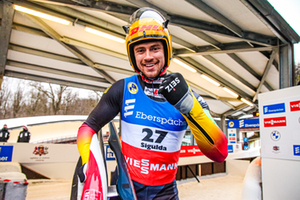 Johannes Ludwig: "I have been in the business for many years now and have experienced many ups and downs. In the last few years, something has changed in my mind, especially with the birth of my children.
I would say that I take the sport very seriously and work professionally, but it is no longer the most important thing. There are other priorities in life, and that has grounded me and at the same time helped me to become stronger and more consistent in the last few years.
I don't think I have anything to prove to anyone anymore, even though I would like to achieve more individual successes. I am very good at the start - that's where I have to lay my foundation, because I am one of the lighter athletes and have disadvantages on the track. I still manage to do that well despite my 'older' age. I am always amazed that I can keep the younger ones in check here.
In view of Felix's dominance, I was already within reach on some lanes, so it doesn't seem impossible to beat him. But he's currently racing at a level that's second to none and he's just simply got a flow at the moment. It's going to be hard to get past him, but I'll try to stay within reach with my consistency and my strengths at the start and maybe strike at the decisive moment. In Oberhof it seems possible, in December I had a gap of nine hundredths, but I lost it myself."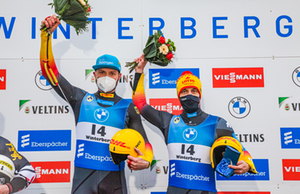 Toni Eggert: "Every race we still have now is very important and valuable for the Overall World Cup because we are simply still behind in terms of points. We need races to be able to catch up, and Oberhof is especially good for us. If everything goes well, we have a better chance on our home track than Steu/Koller who are currently in the lead. Our claim is always that we want to be in the lead, but the conditions - such as weather, track profile, etc.. - are different. We are still trying things out, especially with a view to the World Championships and the 2022 Olympic Games. This is not really conducive to some of the competition results, but at the end of the day, such trips are simply important for the future. So far we have training on the new Oberhof track; it's supposed to be in good shape, but that's always relative. It would also be very presumptuous to say that we will also win the second Oberhof
World Cup as well after we already won the first one in December."
Sascha Benecken: "Every time the traffic light turns green, we are willing to get the best out of ourselves. If we can call up one hundred percent, we are usually also in a position to be able to win. It will be about nothing else this week in Oberhof, because we have to make up points towards the overall World Cup. It will be hard enough without the pandemic in the next few weeks. It was hard enough yesterday alone, when we were told by Salzburg to Oberhof, and I had to refuel in Suhl. I live exactly two minutes away, and the knowledge that I can't just drive to my family and stay in Oberhof in was hard. Then you ask yourself what you are doing here. In the end, we have prepared ourselves well for this season, and we are very happy to be able to be allowed to participate in world cup races. At the moment you don't have to do it just as a vocation, but really consider it a profession."

Schedule 7th EBERSPÄCHER World Cup 2020/21 in Oberhof: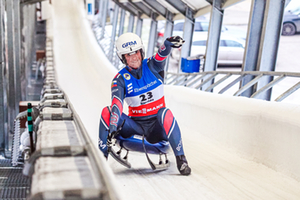 Friday, January 15th, 2021
09:00 Nations Cup, Award Ceremony
14:30 Training seeding-group
Saturday, January 16th, 2021
09:00 1st run Men's singles
10:45 2nd run Men's singles
12:30 1st run Doubles
13:50 2nd run Doubles
Sunday, January 17th, 2021
10:05 1st run Women's singles
11:30 2nd run Women's singles
Times CET / Subject to change
Further information about the 7th EBERSPÄCHER Luge World Cup in Oberhof (e.g. TV times, training results, etc.) can be found under the following link: https://www.fil-luge.org/en/multimedia/eberspaecher-world-cup-5
FIL live streaming from the races with the approved commentary of the US sports reporter Tim Singer from Vermont (USA) https://video.fil-luge.org/
FIL Protection and Hygiene Concept: https://www.fil-luge.org/en/covid-19-information-text
Information about the international athletes can be found in the FIL media guide online https://www.fil-luge.org/cdn/uploads/fil-medienguide-2020-2021-web.pdf