The Youth Olympic Games 2020 will take place in Lausanne (SUI) until January 22nd. In addition to sporting competitions and the hunt for medals, the YOG scores with the "Lausanne en Jeux!"-Program.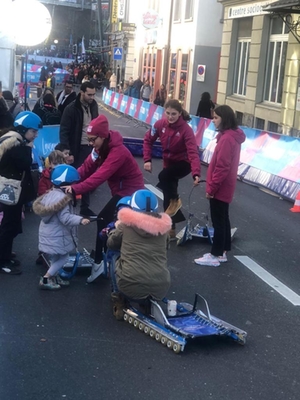 In the city on Lake Geneva, among other things, all winter sports associations presents several winter sports to the interested public. The International Luge Federation FIL is also present in the "try a sport"-area with its own stand. On Saturday, January 11th, 680 visitors were counted at the FIL booth. The most prominent visitor was FIL President Josef Fendt, the World Champion in 1970 and 1974 was particularly impressed by the luge experience with VR glasses (virtual reality). Virtual reality, or VR for short, is the representation of reality in a computer-generated environment.

A ride on the wheels-luge is the main attraction in Lausanne, especially for young visitors.