YOG Lausanne 2020 with separate doubles competition for girls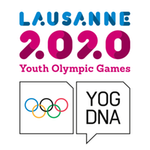 Lausanne (RWH) At the Youth Olympic Games (YOG) 2020 in Lausanne (SUI), medals will be awarded for the first in a doubles competition for girls. This decision was made by the Executive Board of the International Olympic Committee (IOC) on the recommendation of the YOG Programme Commission and in close coordination with the International Luge Federation (FIL) and the national YOG organisers. As with the four other FIL decisions, the venue will be the natural ice track in St. Moritz.
According to FIL regulations, the participation of female lugers in doubles competitions has never been ruled out; mixed doubles teams are also entitled to compete.At the first FIL title races in 1955 in Oslo (NOR), Maria Isser took the silver medal in the doubles together with her brother Josef. Two years later, the Austrian won the women's World Championship title in Davos, Switzerland.
At the conference in Lausanne, the IOC Executive newly adopted an eighth sport into the YOG programme: Ski Mountaineering in the disciplines individual, sprint and team. Alongside the women's competition in the doubles, the Nordic Combined discipline for girls and a special form of ice hockey with mixed teams (each with three boys and three girls) have also been adopted into the YOG programme. These decisions have created complete gender equality for the first time in Olympic winter sports competitions, as highlighted in a press release from the IOC.As a consequence of this, we are seeing the highest number of women's competitions ever in a winter sports event.