Youth Commission meets in Berchtesgaden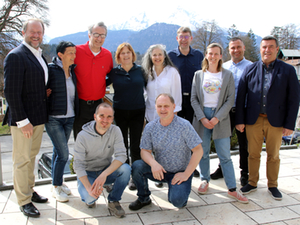 Berchtesgaden (FIL/20 March 2023) The FIL Commission for Youth and Development met on Saturday, March 18. March 2023 at the Alpenhotel Kronprinz in Berchtesgaden.
The 2022/2023 season was the first in which with the Continental Cup another international youth race series was held in Europe, North America and Asia in addition to the Junior World Cup. After the evaluation of the season and a review of experiences, the topics of sled technology and equipment for the youngsters were discussed. In addition, the sports calendar for the coming season was discussed, with the Youth Olympic Games Gangwon 2024 in South Korea as the highlight. The presence of FIL Executive Director Christoph Schweiger and Sport Director Maria-Luise Rainer showed how important the promotion of young talents is for the FIL.
Hans-Jürgen Köhne from Germany is the Chairman of the Commission Youth/Evolution of the International Luge Federation (FIL). Köhne is also head of the BSC Hallenberg club, which organizes the annual EBERSPÄCHER World Cup in Winterberg (GER) and serves as race director.
Further members of the Commission are Mark Hatton (GBR), Maria Jasencakova as permanent technical delegate of the juniors, Petr Kinzel as trainer of the FIL group, Dr. Lutz Kistenmacher (GER), Klaus Kofler (ITA), Sandra Lembert (AUT), Zintis Saicans (LAT), Zianibeth Shattuck-Owen (USA) and Anders Söderberg (SWE).