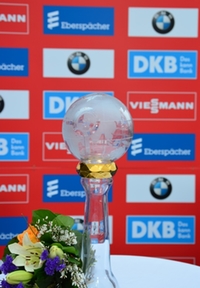 Winterberg (RWH) All Joska cups for the overall winners of the Viessmann World Cup have already been handed out. The final results in the men's and women's events have already been decided ahead of the season finale at the 9th Viessmann World Cup in Winterberg, Germany, this weekend (February 20-21, 2016). And even the mathematical chance of victory for another pairing in doubles proves deceptive upon closer inspection.
The Olympic and three-time World Champions Tobias Wendl/Tobias Arlt from Germany have a 90-point advantage over freshly crowned European Champions Toni Eggert/Sascha Benecken (GER) approaching the 12th and final race of the season. However, as only 24 doubles pairings are allowed to start in the Viessmann World Cup, and Wendl/Arlt do not have to compete in qualifying as they are members of the seeded group, the Bavarian duo only have to finish last to score 17 points to win the overall title. Or, as Tobias Wendl jokingly put it: "We could slide down on a rubbish bag."
Of course Wendl/Arlt will take their sled onto the ice track as normal and would much prefer to round off the season with a final victory, especially in view of the fact that Winterberg is set to host the World Championships in 2019.
There will also be no showboating from their teammates and training partners Natalie Geisenberger and Felix Loch. Both were confirmed as overall winners in Altenberg last weekend, one (Natalie Geisenberger) for the fourth time, the other (Felix Loch) for the fifth time in a row, but there is still plenty to look forward to in the battle for the podium positions in the overall standings of their respective events.
The Viessmann Team Relay World Cup presented by BMW has also been decided, with Germany securing overall victory for the sixth time since the event made its debut. However, the other two podium positions are still up for grabs.