Felix Loch hot on heels of record World Champion Armin Zöggeler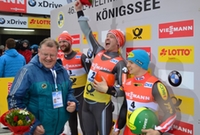 Königssee (RWH) Felix Loch continues to follow in the tracks of record-breaking World Champion Armin Zöggeler. At the 46th International Luge Federation (FIL) World Championships, the two-time Olympic Champion from Germany won his fifth title in the Olympic discipline of the men's luge singles. When taken with his gold in the first ever Sprint World Championships on Friday, the 26-year-old now has six gold and two silver medals, and is hot on the heels of the Italian record-holder, who won a total of six golds, three silvers and one bronze in the International Luge Federation (FIL) World Championships during his career.
While Loch carved his name in the ice practically alone at the head of the field, his competitors fought an exciting race for silver and bronze. The final result saw Ralf Palik of Germany in second and Wolfgang Kindl of Austria in third.
4,500 spectators watched the race on the world's oldest artificial track on Sunday. The sprint on Friday was attended by 3,000 visitors, and the golden races run by Natalie Geisenberger and Tobias Wendl–Tobias Arlt on Saturday drew a crowd of 6,000.
The 2015/2016 luge season continues next weekend, 6–7 February 2016, with the Viessmann World Cup in Sochi, Russia, the tenth out of a total of twelve stops in the racing series.
Quotes
Felix Loch (GER / 2010 and 2014 Olympic Champion, 2008, 2009, 2012, 2013, 2015 and 2016 World Champion)
"How awesome is that: World Champion on my home track. Amazing! I have to confess the weather threw me a bit. And that makes me even happier I won the title. The spectators and the atmosphere here are fantastic."
Ralf Palik (GER / World Championship silver in 2016)
"Felix was really under pressure here. But I was free of all that and could go into the competition sort of in his shadow. Even so, I never expected silver."
Wolfgang Kindl (AUT / World Championship bronze in 2015 and 2016)
"It was a bit like the lottery here today. In weather like this you never really know whether your material is ok, and then all you can do is go all out. World Championship bronze on a German track is really good."