Full itinerary for World Championship dress rehearsal in Sigulda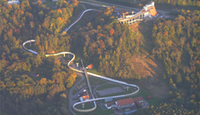 Sigulda (RWH) The 6th Viessmann World Cup of the season in Sigulda, Latvia, is set to double as a dress rehearsal for the 47th World Championships of the International Luge Federation (FIL). The only artificial ice track in the Baltic region is set to host a complete World Championship itinerary featuring all seven main events on January 14-15, 2017, two weeks ahead of the main event itself from January 27-29, 2017 in Tyrol.
The reason for this is the cancellation of the Viessmann Team Relay World Cup presented by BMW in Whistler, Canada. That race is now due to be staged in Sigulda, in addition to the three traditional disciplines (men, women and doubles) and the BWM Sprint World Cup (women, men and doubles). "This is a crucial round of the World Cup as it is a dress rehearsal for the World Championship and there are also two key races on the program", according to the Austrian Wolfgang Kindl. Having finished third in the European Championships in Königssee, he is just 26 points shy of leader Roman Repilov of Russia who has 462 points. Reigning Olympic and World Champion Felix Loch of Germany (435) is just one point behind Kindl (436) in third place.
Semen Pavlichenko travels to the Sigulda track, on which he took a surprise World Championship gold in 2015, as the new European Champion. The 25-year-old Russian was the sixth athlete to win a men's race in the 2016/2017 winter season, adding his name to those of Johannes Ludwig, Felix Loch (both GER), US luger Tucker West (two wins), Roman Repilov and Dominik Fischnaller (ITA).
The women's races have been won by five different sliders – Dajana Eitberger, Natalie Geisenberger and Tatjana Hüfner (all GER), Erin Hamlin (USA), and Alex Gough (CAN). Sochi Olympic Champion Geisenberger and her Vancouver predecessor, the four-time World Champion Tatjana Hüfner, are involved in a head-to-head battle at the top of the overall standings. The pair are separated by just two points after seven of twelve events.
The doubles is currently being dominated by two pairings – the German duo of Toni Eggert/Sascha Benecken currently top the Viessmann World Cup standings ahead of their compatriots Tobias Wendl/Tobias Arlt, who just clinched their second European Championship title in Königssee. Eggert/Benecken are 88 points clear of their nearest rivals going into the last five races of the season.