Seiya Kobayashi shines light on luge in Japan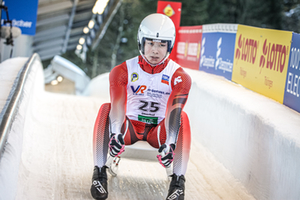 Lake Placid (FIL) Seiya Kobayashi was the only luger in Japan's largest overseas Winter Olympic delegation when he flew down the Yanqing National Sliding Center track at Beijing 2022.
Now, fresh from his first Olympic experience, the 20-year-old is training hard at the Lake Placid Olympic Sports Complex, home to Team USA's top sliders.
In an interview with the International Luge Federation, Kobayashi opens up about his Olympic experience and next goals.
"Beijing was an incredible adventure and a major learning curve," explained Kobayashi, who finished 32nd in the men's individual event.
"I wasn't totally satisfied with my performance in Beijing - I was nervous and made mistakes. But as soon as I got home, I got back into training and now I'm in Lake Placid until September. "
Kobayashi - from Iizuna Machi in the Kamiminochi District of northern Nagano Prefecture - has already set his sights on the Milano Cortina 2026 Winter Games and is taking full advantage of Lake Placid's winterised track for start training while Nagano enjoys full summer temperatures.
"I'm focusing on my lead off. At home in Nagano right now I'd be on our summer roller track, so being here is super useful to perfect the speed I can carry right from the beginning."
Beijing was also a major eye opener for Kobayashi on the style and skills of the world's best lugers.
He has been especially impressed by Italy's Dominik Fischnaller who heading into Beijing 2022 - where he claimed bronze in the singles event - had produced six podium finishes in the 2019-20 season, followed by his first European singles crown in Lillehammer.
"Watching Dominik Fischnaller over the season before the Olympic Games was very insightful - I like his technique and he's always raising awareness of luge on social media, which is great for the global profile of our sport."
Now with authorities in Sapporo, capital of Hokkaido, bidding to host the 2030 Winter Olympics - thanks to reliable snowfall and long experience of hosting major events - Kobayashi is especially excited.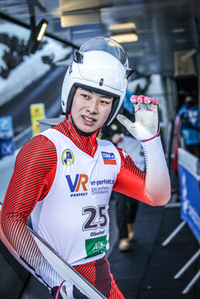 "Sapporo is the home town of my coach Toshiro Masaki whose career spans nearly two decades. He finished 12th at Turin 2006 and is the luge coaching director of the Japanese Olympic Committee (JOC).
"Hopefully I can win a medal on home soil at the 2030 Olympic Winter Games, in the home town of my coach - this would be my highest honour.
"Having my family and friends there watching too would be a major highlight - these are the people who have been supporting me constantly ever since I started luge."
Like most children in Nagano, the 1998 Winter Olympics host city, Kobayashi enjoyed skiing and snowboarding.
But when he was in fifth grade at elementary school, he was enticed by the adrenalin of the sliding track.
"As a child, the appeal of luge is obvious - It's faster and basically a lot more fun than skiing and snowboarding."
Kobayashi has an important message for Japanese youngsters:
"When I was picked for Beijing 2022, I became a celebrity overnight in my town and when I came back after Beijing everyone knew more about luge.
"Now, I'm hoping that my Beijing experience will help me to help young people in my home town and throughout Japan to aim high in winter sports, and especially in luge.
"It's important for young people to embrace and try new things. We have an amazing luge facility in Nagano, and now with the Olympics a real possibility in Hokkaido in 2030, Japanese youngsters really have a major goal to aim for.
"I am here to help young people to experience how fantastic luge is!"