Sixth consecutive victory for Olympic Champion Felix Loch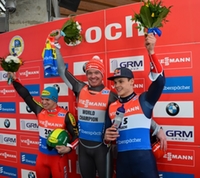 Sochi (RWH) Olympic Champion Felix Loch has clinched his sixth consecutive victory at the Viessmann Luge World Cup in Sochi. The two-time Olympic gold medallist from Germany claimed his 30th race win just one week after winning three gold medals at the 46th International Luge Federation (FIL) World Championships on the artificial track in Königssee.
27-year-old Loch relegated World Championship bronze medallist Wolfgang Kindl from Austria and Italy's Dominik Fischnaller into second and third respectively on the Olympic track in the hills above Krasnaya Polyana where he took his second Olympic gold medal in the singles two years ago. Russia's Semen Pavlichenko, the World and European Champion in 2015, was lying fourth at the halfway point but dropped back to 19th after crashing on the finishing curve.
Defending champion Loch now holds the overall lead in the Viessmann Luge World Cup with 790 points. Kindl is close behind in second place on 685 points. American luger Chris Mazdzer (545) now lies third, having finished eleventh in Sochi.
The next round of the Viessmann Luge World Cup takes place in Altenberg (GER) next weekend. The 8th Viessmann Luge World Cup of the season will also double as the 47th International Luge Federation (FIL) European Championships.
Quotes
Felix Loch (GER / 2010 and 2014 Olympic Champion and five-time World Champion)
"I wasn't happy finishing third last year. It wasn't a bad result, but I wanted to do better this time round. And I did it. If the team relay goes well it will have been a perfect weekend."
Wolfgang Kindl (AUT, World Championship bronze medallist 2016)
"This is by far my best result here in Sochi. When it works, it works well. My kit is fantastic. We have taken a step forward and my starts have improved. There's just one guy who is a bit better, but there's no point denying it."
Dominik Fischnaller (ITA / sixth at the Olympics)
"I've had to wait a long time for it. I hope this upward trend continues in the last two races."