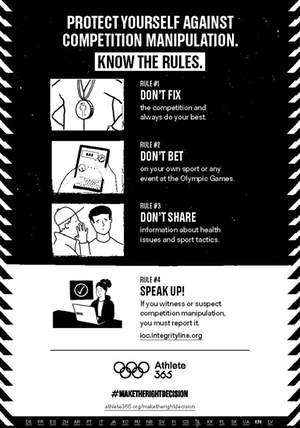 COMPETITION MANIPULATION
Competition manipulation is when athletes cheat by losing on purpose or by not doing their best in a competition. It is also when officials or coaches deliberately make wrong decisions, affecting the competition or its outcome. Competition manipulation kills the spirit of sport and is subject to heavy sanctions. Therefore, the FIL is fully committed to ensuring the integrity of the sporting competitions. This includes in particular the fight against manipulation of the sporting competitions and their results and the execution of all sporting competitions according to the principle of "fair play". To ensure this, the FIL has integrated the "Code of the Olympic Movement for the Prevention of Competition Manipulation" into its Ethics Code, monitors its prohibitions and enforces them.
The FIL supports the IOC's Believe in Sport campaign, which aims to raise awareness among athletes, entourage and officials of the threat of competition manipulation.
For more information and an online learning module on Preventing Competition Manipulation please go to https://athlete365.org/maketherightdecision-fil
Click here to access the Code of Conduct in 21 languages (see bottom of the document).
Reporting mechanism for competition manipulation related matters: International Olympic Committee's Integrity and Compliance Hotline
Videos:
Why people manipulate competition